Our Recruitment Approach -
Systematically Winning the Right Staff, and Bringing them Successfully on Board
A company's success depends largely on its employees. Their skills, personalities and motivation are essential to their performance. The search and recruitment of new - and notably the right - staff members is a sensitive moment in corporate business which requires extraordinary professional diligence.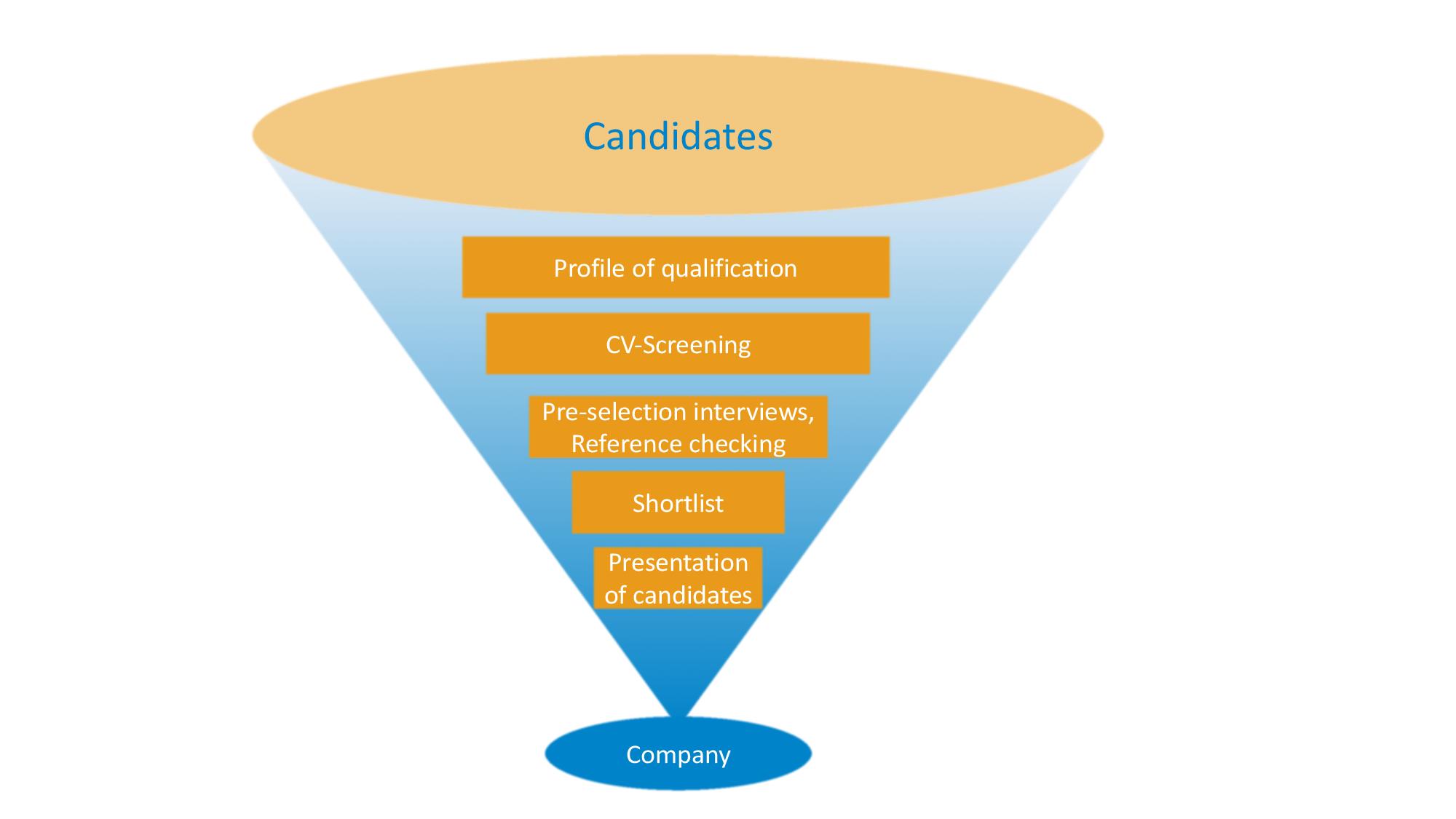 Our Competence: 
We take the responsibility for the entire recruitment process.
That means that we integrate the proper diagnostic methods and support our customers in the conceptual design and the actual execution of the following described tasks:
Preparation of a valid profile of qualification of the employee to be recruited in collaboration with the customer's HR department
Design, preparation and placement of job advertisements in print media and/or the Internet
Organisation of the written pre-selection process (receipt, analysis, evaluation of and answering to the written and electronic application documents)
Conducting telephone interviews for pre-selection (standardised brief interviews, language check, biographical issues, first situational modules)
Conceptual development, planning and conducting of suitable diagnostic procedures for the compilation of a shortlist and presentation of the suitable candidates
Reference checking
Mediation through salary negotiations
Tutoring the new employee during the first months
Further personnel development
Your Benefit:
The professional and very systematic development and implementation of the recruitment process ensures a target-oriented procedure. All single processes intertwine seamlessly and interim reflections facilitate readjustment and/or a feedback both on internal company factors and on developments in the recruitment market.

Exemplary Participant Statement: 
"A very transparent and stringent procedure so that we knew all the time which process step we were going through at any given moment. We enjoyed pwb's competent consulting, felt very well supported and didn't fear a second that the process would be taken out of our hands."